New York City is home to some of the most innovative buildings in the world. Far from being just architectural marvels – though many are – they're also known for their extreme functionality. They almost have to be. New York is the center of so many industries and sectors, packing so many people in, that buildings in great locations with extreme usability are at a high premium. These buildings must appeal to top-tier tenants with the features those tenants require to succeed.
The commercial real estate market in New York City is on the cutting edge in so many respects. Many of the buildings have unique technological features meant to increase their attractiveness to potential buyers or tenants. They're taking steps to ensure the features of the building are aligned with what modern companies are searching for in an office space.
But what exactly are these state-of-the-art havens of innovation doing to make them more attractive to prospective tenants? And what mechanisms are the proprietors of those buildings using to show these top-tier tenants that they've gotten there?
Let's take a look at how some of New York's most forward-leaning spaces have chosen to prove to tenants that they possess one of the most important features of all: fast and reliable digital connectivity.
What are some examples of New York City's most innovative developments?
To get some perspective on the New York City commercial real estate market, let's take a closer look at examples of three developments in New York City. All three have been developed relatively recently. They're representative of the "new normal" in New York commercial real estate – buildings containing work and office spaces that are still aesthetically pleasing while also serving a whole host of functions.
Dock 72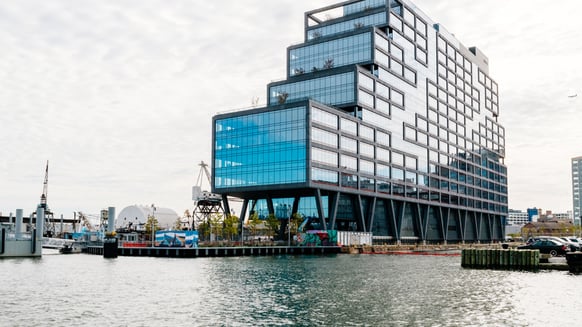 Located on the waterfront, Dock 72 is "the home of 21st-century manufacturing in the digital age – a laboratory for the production of ideas and innovation." Built with office infrastructure in mind, the 675,000 square foot development is designed to give its occupants stunning skyline views of both Manhattan and Brooklyn. Those who work there or are just visiting can enter from either the water or the land side. It has 18,000 square feet of private terraces meant to encourage an indoor-outdoor working environment.
But beyond the appealing aesthetics, Dock 72 boasts future-forward innovations like a mobile app that expedites processes like building access, conference center booking, food delivery, in addition to transit updates that prepare tenants for whatever NYC throws at them. Despite being so massive, the development has WiFi throughout common areas that ensures connectivity. To support these features centered around a central network, Dock 72 was designed to WiredScore Certified Platinum specifications that maximize internet resiliency.
The Hall
The Hall Brooklyn bills itself as a "neighborhood within a neighborhood." Nestled within the three Brooklyn neighborhoods of Williamsburg, the Brooklyn Navy Yard, and DUMBO, the Hall's infrastructure consists of ten buildings. It's an entire block with access to the Brooklyn-Queens Expressway. Unlike Dock 72's single building, it seeks to inspire more of a campus-like feel.
With the 10 buildings surrounding a central Main Street Plaza, The Hall truly aims to garner a community feel and has already made connectivity an emphasis with a WiredScore Certified Gold designation.
390 Madison
With JP Morgan as an anchor tenant, and  located in the heart of bustling Midtown Manhattan,
390 Madison had to bring best in class connectivity and tech from the onset. Newly renovated with additional floors, 390 Madison includes a carrier-neutral Distributed Antenna System (DAS) to boost cell reception and a fiber backbone, which will be able to help serve tenants as part of a smart building system in the future.
While those two features highlight the Platinum Certified building's digital infrastructure, there are additional attributes that make this L&L structure first-class. 390 Madison has diverse points of entry for connectivity cabling on either side of the building, sufficient riser space to accommodate tenant needs, a backup generator in case of emergency and a dedicated telecom room. All of these measures amount to a development that tenants can trust will serve their needs for not only today but the future as well.
What do those developments have in common? 
More then perhaps any other city, New York City commercial real estate has to look and feel impressive while also satisfying its tenants needs for enhanced digital connectivity.
Dock 72, The Hall, and 390 Madison have multiple traits in common that make them very attractive to higher profile clients that rely heavily on technology. One of the most important traits they share? An emphasis on strong, resilient digital connectivity and tech-readiness.
Think of some of  the big tech companies that have recently carved out a home in New York City – Facebook, Google, Apple and Facebook. Connection to the internet flows through their companies like a lifeblood. That's why buildings like the ones listed above are offering increased levels of connectivity to match the technological sophistication of their tenants.
One way in which Dock 72, the Hall, and 390 Madison have shown their commitment to connectivity? They've all achieved a WiredScore Certification of Gold or Platinum from WiredScore.
What is WiredScore Certification? 
WiredScore Certification is a service operated by WiredScore. WiredScore Certification is an internationally recognized digital connectivity rating system for commercial real estate. The system assists landlords in promoting the strong digital connectivity present in their properties. This is a key factor for tenants with a tech-based focus. While many of these buildings may have state-of-the-art designs and other fine features, think of the WiredScore Certification as its "digital report card" that proves a facility's worth as functional office space for companies that rely on fast and effective digital connectivity.
The three aforementioned buildings aren't the only ones with the certification. To date, over 2,000 structures that makeup over half a billion square feet use WiredScore Certification as evidence of their building's superior internet capabilities.
Summary
The bottom line is that when promoting your building, you need to consider the needs of your tenants to maximize the attention and value you receive in return for it. To do this, you should have what those tenants need. With a WiredScore Certification, you demonstrate to your tenants that you have at least one capability they'll definitely require: reliable and strong internet service.