Last week, we launched WiredScore Home in Dublin, Ireland. The launch marked an opportunity to celebrate the forward-looking landlords; Tristan Capital Partners, Irish Life Investment Managers, Round Hill Capital, Kennedy Wilson and Patrizia, who are putting their residents' needs at the forefront of their offering by committing to improve the digital connectivity in their buildings through the WiredScore Home certification.
WiredScore's mission is to make the world's buildings better connected, enabling a more collaborative, innovative and dynamic future. WiredScore Home is an important part of this, enabling that mission to live through people's homes, not just the office space.
Homes are changing and becoming much more dynamic places. Renters now want to stream films, games, and work from home more than ever before. The commitment from landlords to certify over 1800 homes is a clear validation of not just the importance of connectivity but the ambition of the Irish community in wanting to improve their digital experience. 'The BTR sector has an opportunity to provide their residents with great experiences within their homes' noted WiredScore Home director Henry Pethybridge, 'so to see such uptake from commercial and the BTR sector in Ireland is truly exciting.'
In addition to the announcement, we heard from WiredScore's technical director Sanjaya who opened the conversation around what the future of technology looks like in our homes, and what impact this will have on landlords moving forwards. We also heard from a fantastic panel led by Ellen Prenderville (LIV Consult), Peter Holden (Round Hill Capital), Henry Pethybridge (WiredScore) and Ian McCarthy (Landholm Capital).
With user experience becoming increasingly important, landlords need to 'take responsibility for the ABC of BTR: amenities, brand and community' says Sanjaya. And the one thing that underpins it all, is digital connectivity. Recent research reveals a huge shift in consumer behavior with individuals spending on average 6 hours and 43 minutes online each day, and the typical user now spends more than 40% of their waking life using the internet. All this results in a constant need for reliable, consistent connectivity. Landlords that put their residents' needs first and use that to shape their digital connectivity offering, will set themselves apart from the competition.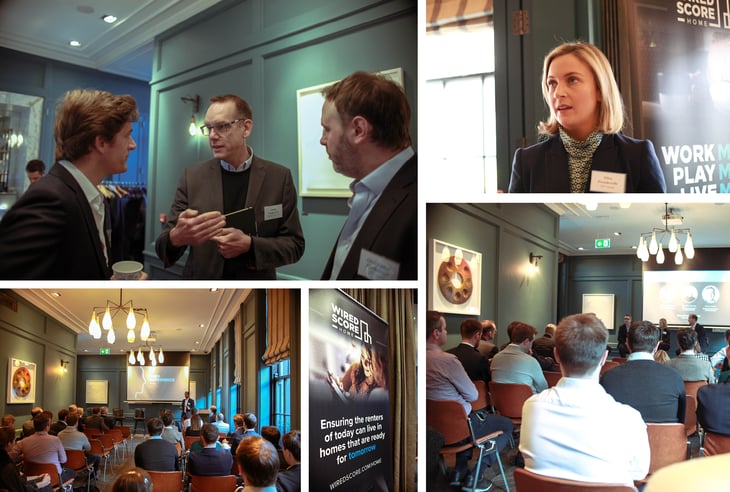 The key challenge for landlords, however, comes from truly understanding what renters want. Research needs to go into finding out what residents really want from their developments, and time needs to be spent on mapping out the user journey. Peter Holden from Round Hill Capital explains that 'speaking to students gives us insight into what consumers are going to want in the long term. The first question we get asked is 'how fast is your broadband'. It is also the second and third question.'
As Opinium research highlighted, digital connectivity is quickly becoming the 4th amenity with 84% of respondents stating that they expected their internet connection to work like any other utility (gas, water, electricity). The same proportion think building developers should strongly consider WiFi connectivity throughout the construction process of a property. 'What is going to happen quickly is the leap over normal to just to best-of-class' says Peter. With the pace of the evolution of technology increasing, consumers are starting to expect a seamless experience. 'People will pay a premium for that service, concierge, service, connectivity' notes Ellen Prenderville. 'Everyone wants the easiest life possible, and people are willing to pay for that privilege'.
The biggest thing to remember is that technology is being driven by user experience, and within BTR, user experience and connectivity are coming together as one. "It's all about the smaller things, a seamless experience all throughout the building – not just the apartment". Great connectivity, affordable rent, service, good tenancy structures, easy access, even keyless locks are becoming standardized features.
If landlords can ensure best-in-class digital infrastructure, it will enable them to streamline services and enhance the value-add experiences for their residents, whilst also be reassured that their buildings can adapt to the next generation of technology.
#SeamlessLiving