WiredScore takes a closer look at Italy's connectivity
Veröffentlicht am:
12 / 8 / 2020
Tagged:
2020 has taught us much about the importance of connection. As we've been physically separated from each other, we have come to rely heavily on technology to maintain our personal and professional relationships. The global pandemic has accelerated an increase in tenant demand for fast and reliable digital connectivity, a trend that shows no signs in slowing down.
This year, WiredScore began working with Italian landlords and developers to deliver best-in-class experiences for tenants. To celebrate this, WiredScore's formal launch event introduced WiredScore to the Italian market, convening industry leaders to discuss how real estate must evolve to meet occupiers' changing needs.
Ahead of the launch event, and in partnership with Opinium, WiredScore conducted a set of research across Europe. The research explored connectivity levels whilst working both at home, and in the office, and the resulting impact connectivity has on the overall ability to do one's job.
The findings in Italy show that 71% of Italian office workers have been working from home since the start of the coronavirus pandemic. For Italians, Wi-Fi is a much more prevalent issue at home than in the office, with 83% having experienced connectivity issues whilst working from home since the start of the pandemic.
When they're able to use it, 87% of Italian office workers rate their in-office internet connection as good. Despite this, 78% have had to take steps to improve internet connection whilst working in the office. The most popular method for improving in-office connectivity is to turn the internet connection off and on again, with 35% favouring this method, whereas 5% stop working altogether.
A more granular breakdown of favoured internet connection improvement methods looks like:
Turn the internet connection off and on again – 35%
Use mobile hotspot – 21%
Moved elsewhere in the office – 19%
Turned their camera off in a meeting – 12%
Change location completely – 7%
Stopped working altogether – 5%
Looking ahead to in-office priorities in post-pandemic life, 58% stated that internet connectivity would be a top priority, whilst for 48%, air quality is the number one concern. Access to office equipment, time with colleagues and mobile coverage were then ranked a top priority by 39%, 30% and 21% respectively.
After this year's events, an increased awareness of the importance of digital connectivity is hardly surprising. Looking forward, over half of Italian office workers (58%) predict an increase in remote working and now consider the quality of digital connection to rank as the most important factor, alongside building location, when looking for a new office. The breakdown is as follows: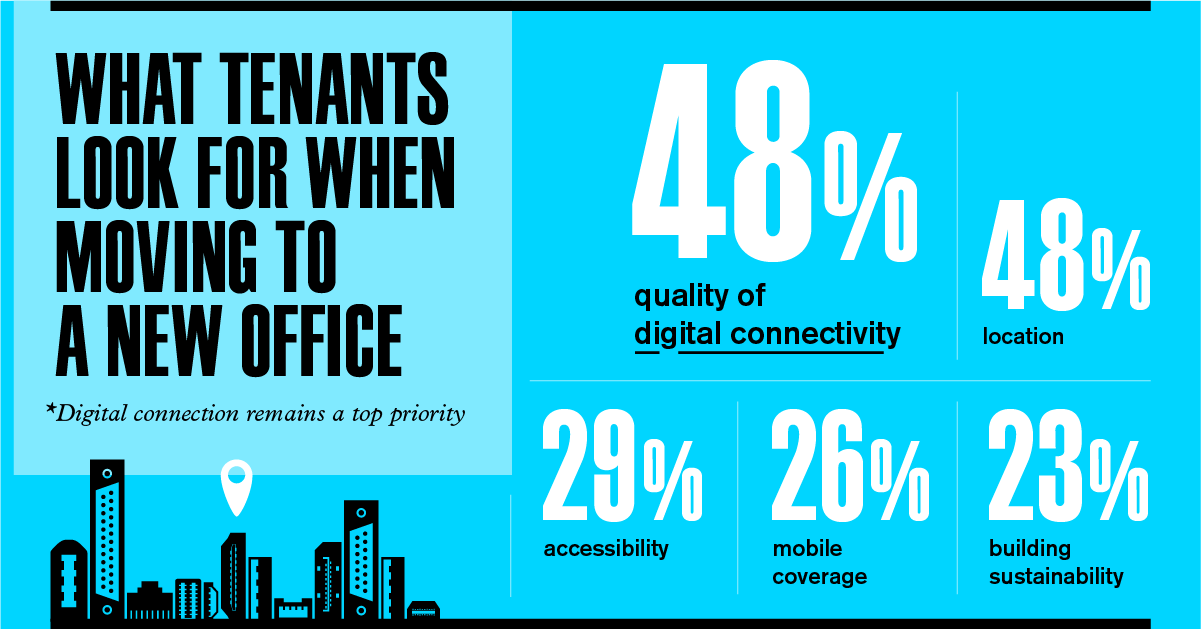 The research shows that digital connectivity is of paramount importance to businesses across Italy and places a spotlight on the Italian real estate market. The need for good in-office connectivity is demonstrated by the 78% of people who said that the quality of internet connectivity will be a major deciding factor as to whether or not to return to the office once COVID-19 restrictions have been lifted.
It's clear that, if the workforce is to return to the office, tenants need the reassurance that productivity levels may remain high, and that there is a resilient digital infrastructure in place to support in-office productivity and seamless collaboration.